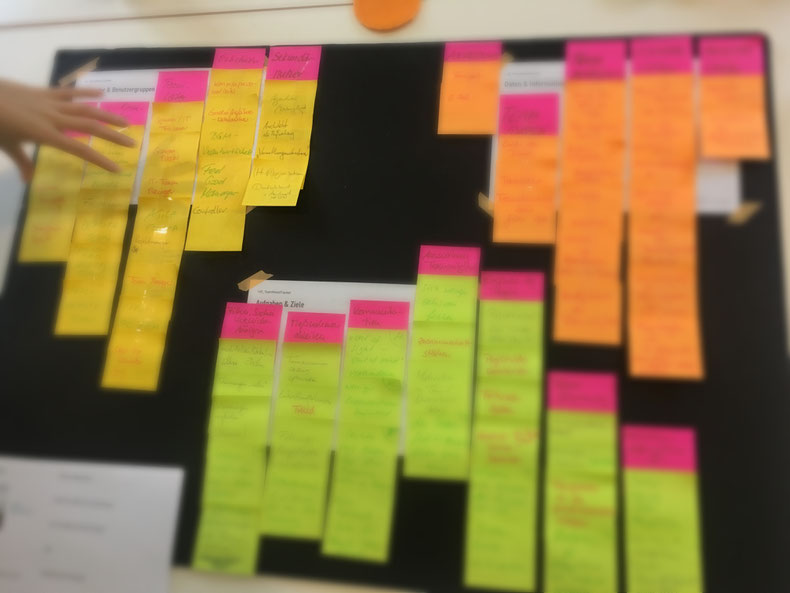 This is how we went on with our developing process for the Team Mood Tracker: we created personas. They are a representation of a user -  incorporating user goals, needs, and interests. 
1) What we did was to define central user groups or persons who could be interested in the Team Mood Tracker for some reason. = Personas 
For that I looked on social networks like LinkedIn and Xing to find people who are actually in that special role (Team Manager, Project Manager, Networker...)
2) Second there was the task to define there goals and expectations. First, we brainstormed and then collected the ideas from everyone in the room. Finally we matched the ideas with the personas and put away the doubles.
3) Third we collected a list of data and data formats which came out of the first two steps (question: what would we need to fulfill the goals?).
Example:
1) Persona "Team Manager" 
2) A Team Manager wants to know the actual mood of his/her team to change the setting on time if necessary. This is because it is necessary to meet all the project goals in time & budget.
3) If a Team Manager registers with his/her team, we need
e-mail-address of Team Manager (validated through system)
name of Team Manager (First name is enough for beta)
e-mail-address of Team Members
names of Team Members
and so on...
This is how we went through all personas and user groups, there needs, and data.
In the end we had around 7 personas - which was way too many. :-(
So we agreed to concentrate on a few and the most important ones:
Team Manager /Project Manager
Team Member
Sponsor / Networker
These personas will guide our future work on the TMT every day.
You want to find out more about how to define personas? Look here for some great leading questions: https://www.usability.gov/how-to-and-tools/methods/personas.html